supple tallow salve
---
Couldn't load pickup availability

grassfed tallow
*moroccan argan oil
*golden jojoba oil.
*authentic vanilla oil.
*lavender essential oil.
vitamin e
vitamin c (tetrahecyldecyl ascorbate)
* certified organic ingredient.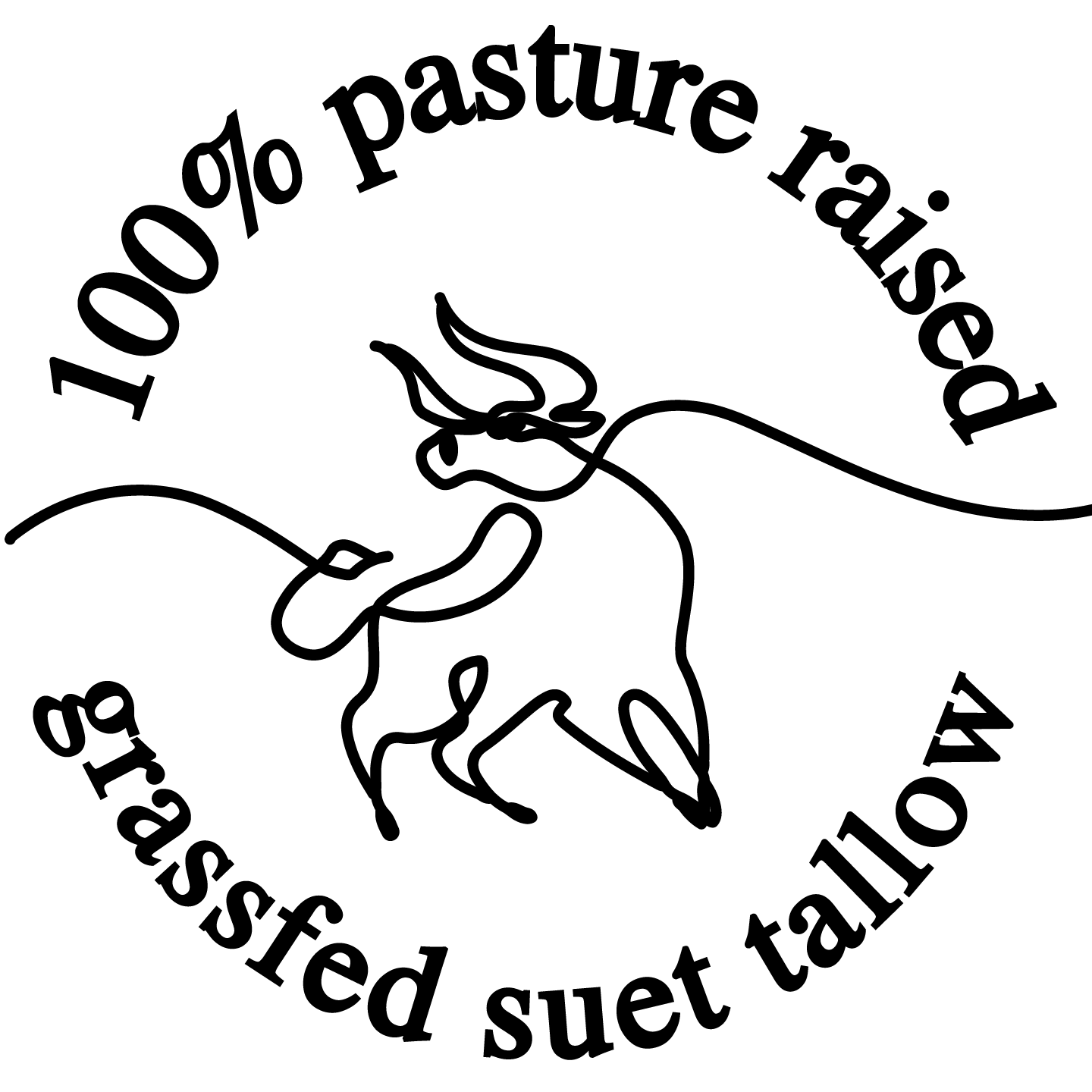 100% pasture raised + grassfed tallow
our tallow source is uniquely diffficult to come by. we only use tallow from 100% grassfed & pasture raised ranches in eastern montana & western north dakota. we maintain relationship with a very small supplier to access this quality tallow.
suet tallow is fat that surrounds the kidneys (no other tallow is used in our products). this tallow is significantly higher is vitamin A (and other vitamins), omega 3 fatty acid and CLA than fat elsewhere. this tallow is also uniquely clean compared to fat taken from anywhere else in the body. the best tallow for nutrient content and overall experience is, without a doubt, grassfed suet.  
stronger barrier protection & moisture retention.
hydrated skin comes from the water you drink and a strong lipid barrier that seals it in.
when this barrier is disrupted, hydration (water) can easily evaporate from the skin, causing dryness.
since the lipid barrier is an integral part of the skin's immune system and moisture retention, maintaining its' integrity is very important to maintaining optimal skin health.* abandon the crazy idea that all oils are bad for your skin and cause breakouts. your skin is intelligently designed with a lipid (oil) barrier for a reason. you just need the right oils that are nutrient-rich and biologically complimentary.
our serums and salves are zero water formulas, crafted with 100% extra virgin, organic and nutrient rich oils to supplement the lipid barrier for far superior moisture retention and
protecting the microbes that protect your skin.
healthy skin is home to billions of commensal and symbiotic bacteria. when these microbes form strong cultures, they fight pathogens for resources. building and maintaining a strong microbial flora plays a very important role in a healthy immune system and resilient skin.* abandon the misinformation that all bacteria is bad.
our skincare products never contain preservatives, alcohols, or broad-spectrum bactericides. even when organic, these ingredients can wreak havoc on your skin's symbiotic flora. damaged microbial flora can result in over deployment of the body's immune system. habitual weakening of these primary defenses can result in chronic inflammation and weakened skin.*
ATTN: no returns on tallow product.
this is one of the few products we don't offer returns on at this time. this tallow whip is uniquely difficult and expensive to make. the 100% grassfed pasture raised suet tallow is difficult to come by. we maintain relationship with a very small supplier to access this quality tallow. this is also a product we have to make in very small baches to get the right consistency (we use a kitchenaid) and it takes hours to prep. since this product is uniquely not scalable, we cannot offer returns / refunds on this tallow whip. as our reltionships with high end local ranchers grows over the next few years and we invest in larger mixers, we may offer a more flexible refund policy. thanks for your understanding here.
This tallow is my favorite! I put it on my face, on my cuticles, and on my feet as a moisturizer, and it's so velvety smooth 💜
Wow… Speechless!
I've had KP (little red itchy bumps on backs of my arms, legs, and buttocks) my entire life. I've tried various diet, body wash, and lotions to no avail. This stuff made my legs and arms smooth as butter after just two days of using it after my shower!! So happy I happened upon Roots Apothecary on Instagram!
This is the shit
I love this stuff. I'm a guy that wants to take care of his skin. And I'm pushing 70! I love this company!
Once you go supple you'll never go back to lotions
New flex unlocked! This is the softest my skin has been in my life! I've put this all over my body and feet and I'm so amazed at how supple I look! It can be challenging to only use a little because the product feels so soft. It's quite heavenly and you can start to spiral out of control with how much you apply! But a little goes a long way! I highly recommend this if you like the soft life and love flaunting skin! I've gained a new level of confidence in my skin!
Amazing
I love this tallow! I use it morning and night on my face and neck. I use it on try patches or burns! Highly recommended!! Works great my grad kids diaper rash!